Reply
Topic Options
Mark Topic as New

Mark Topic as Read

Float this Topic for Current User

Bookmark

Subscribe
Highlighted
[CW: suicide, sexual assault] 13 Reasons Why
[ Edited ]
Options
Mark as New

Bookmark

Subscribe

Email to a Friend
Thursday - last edited Thursday
Hi everyone
Many of you will have heard about the new Netflix series going around at the moment - 13 Reasons Why.
Some of you may have watched it and others might be wondering whether you should watch it or not.
The show has generated a lot of conversations and discussions about some really significant things that young people face.
However, it contains a lot of really heavy content (including graphic depictions of sexual assault and suicide) that could definitely be triggering or distressing for some viewers.
If you've watched the show and are feeling distressed about it or were triggered by it, or are concerned that watching it will be triggering for you, this is a safe place where we can discuss these things.
Please remember you can always call Lifeline or Kids Help Line if you are feeling distressed at any time. There is support out there
More extensive trigger warnings for 13 Reasons Why: http://www.buddy-project.org/13-reasons-why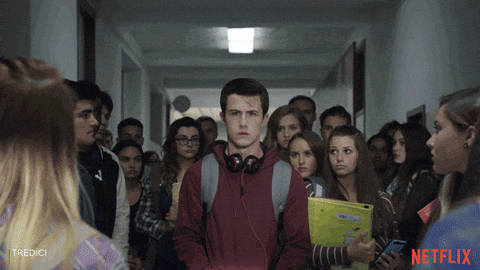 Message 1 of 9
(193 Views)
Re: [CW: suicide, sexual assault] 13 Reasons Why
[ Edited ]
Options
Mark as New

Bookmark

Subscribe

Email to a Friend
Thursday - last edited Saturday
Thanks for starting this topic @May_This is definitely a show worth talking about.
I watched it last week and at first, I liked it. I like it when shows play around with chronology and the way they jumped back and forth from the past to the present I thought was clever. I also liked the way little pieces of information were being drip-fed to Clay via both the tapes and the people around him. It reminded me of when PLL was good and they created tension really well by you knowing something has happened but not how or why.
Then it ended. And my first thought was "Wow, that's a youth workers' worst nightmare, right there." Because the way they present suicide is just how it's imagined by many despairing, hurt, lonely teenagers and the OPPOSITE of what suicide really is. It shows everyone being devastated by the death of Hannah, refusing to accept responsibility for her death, accepting their responsibility, wanting her forgiveness and finally, growing into a better person. So, lesson 1 is - your death will improve other people's lives.
It shows everyone listening to her tapes, talking about her death and why she did it. Picturing her there, imagining her talking to them. So, lesson 2 is - you will live on after you die.
It shows Hannah ultimately resolving all the issues she was experiencing, including her first love, through the tapes, after her death. So, lesson 3 is - your death will bring about resolution to all the problems you currently feel.
It shows Hannah seeking help, only once, stating before she goes that if it doesn't work she'll kill herself. It doesn't work. Admittedly he handles the situation badly but she only gives it one try and then walks out. So, lesson 4 is - death is a better solution than help seeking.
And for the final awful act, they show Hannah killing herself. Beautiful, tragic, captivating, heartbreaking.
Final lesson - death is like a movie.
I think you're getting why I was so concerned by this series. The truth of suicide is that the person who dies doesn't get to experience anything after they die, and those left behind have nothing but endless unanswered questions and pain. Anyone impacted by suicide will tell you there's never anything romantic or beautiful about it. Nobody grows as a person. It's just a horrible, terrible waste of a person's life.
I sincerely hope that anyone watching this series and is feeling similar feelings to Hannah which I know are very real: loneliness, sadness, heartbreak, fear, anger, numb, pain, disappointment, depression or anything like that, is able to understand that the only truth the series tells is 'high school is hard' and the only answer to those feelings is finding someone to talk to. It can be anyone. It can even be here. As long as you're talking, you're still alive and that means things can get better.
xx
Message 2 of 9
(169 Views)
Re: [CW: suicide, sexual assault] 13 Reasons Why
Options
Mark as New

Bookmark

Subscribe

Email to a Friend
Friday
So glad you started this thread @May_. I haven't watched 13 Reasons Why, although I read the book. I don't think I'll watch it because I would probably find it too distressing. I was very disappointed by the way it handled the issue of suicide and I agree wholeheartedly with your post, @Ngaio-RO.
When done well, movies and TV can be advantageous in the area of mental health. Sadly, I don't think 13 Reasons Why hit the mark.
My freedom is an agreement with myself. It's an acceptance and love for who I am that isn't dependent on performance or the will of other people - Renee Yohe
Message 3 of 9
(138 Views)
Re: [CW: suicide, sexual assault] 13 Reasons Why
Options
Mark as New

Bookmark

Subscribe

Email to a Friend
Saturday
Thanks for your posts
@Ngaio-RO
and
@letitgo
.
I think that no matter what angle the series presented, it would have been flawed. Everything is flawed and that just describes life. For some people, it is a very accurate depiction of suicide and suffering and for others it glorifies and completely misses the mark. We all experience things too differently to agree on a "correct" representation, I think.
Personally, I think the idea behind the series was genuine and advantageous. It aimed to get these very real topics presented and talked about. And that's exactly what it has done (like on here).
I agree, there is no way the person gets to experience anything after death and people will just have forever unanswered questions, but it showed the possible mindset of someone going through all that. And Hannah's experiences were very relatable. It really demonstrated the effect of what unkindness, bullying, sexual assault, depression and loneliness can have.
I think the underlying message is that we need to treat others better. We don't know each other's stories and therefore, judgement is uncalled for.
But that's just my opinion.
Message 4 of 9
(113 Views)
Re: [CW: suicide, sexual assault] 13 Reasons Why
Options
Mark as New

Bookmark

Subscribe

Email to a Friend
Saturday
Thanks for all your responses
@Ngaio-RO
I can relate to how you've changed your mind on the show - I can't quite put my finger on how I feel about it overall. It was very cleverly made with the flashbacks. Your concerns are so valid and I had similar thoughts about those lessons - I thought they could have put further emphasis on the fact that she really was gone. Watching the show there were moments I was wondering if maybe possibly there was a chance she was still alive. I thought the portrayal of Hannah's parents dealing with her death was very powerful.
@letitgo
that is totally fair enough - it is a very distressing and difficult show to watch and I would not recommend it for anyone who thinks they might struggle with it. Are there any shows, books or films that you think depict suicide or any of the issues shown in the show well?
@Alison5
I totally agree. I've seen a lot of articles going around on facebook that explain how inaccurate the depiction was and I had the same thoughts - everyone's experiences are different and just because your experiences are different doesn't mean other people's aren't valid. I thought the show did a pretty good job at showing some insight into what it is like to experience sexual assault, bullying, loneliness and what it is like to be a teenage girl. It also showed how disheartening it can be to try to reach out and for others to not take you seriously enough, or to not be there for you, and how difficult it can be to reach out for help as a teenager.
Message 5 of 9
(111 Views)
Re: [CW: suicide, sexual assault] 13 Reasons Why
Options
Mark as New

Bookmark

Subscribe

Email to a Friend
Sunday
YES thanks for starting this thread @May_!
I read the book a few years ago and thought it was a pretty clever way of telling a story. The book was presented kind of a 'mystery' and I thought it worked pretty well. Same @Ngaio-RO, the mixed up chronology was really cool!
I haven't watched the show, but I've seen clips from it, and I would definitely say that anyone who's struggled with suicide/self harm/sexual assault should only watch it with caution. Hannah's suicide was really graphic and the images have been basically repeating in my head since I saw it, plus it triggered more intrusive thoughts. And watching her talk to the counsellor was pretty upsetting as well because hearing someone else say what's basically in your own head really reinforces that script.
I read this really interesting article about the topic actually from one of my fave bloggers - https://letsqueerthingsup.com/2017/04/17/suicide-attempt-survivor-still-waiting/
Message 6 of 9
(72 Views)
Re: [CW: suicide, sexual assault] 13 Reasons Why
Options
Mark as New

Bookmark

Subscribe

Email to a Friend
Monday
@DruidChild
the counsellor scene at the end was really hard to watch once he started victim blaming her I was like yelling at my computer
he definitely did not say the right things to her and clearly wasn't informed about or trained in dealing with SA.
Wow thanks for sharing that link - such an important read! We really do need more shows focusing on survivors
Message 7 of 9
(52 Views)
Re: [CW: suicide, sexual assault] 13 Reasons Why
Options
Mark as New

Bookmark

Subscribe

Email to a Friend
Monday
I haven't seen the whole scene but that sounds really infuriating @May_
And it might stop young people from disclosing and getting support if they've seen that they might get blamed for their assault
Message 8 of 9
(47 Views)
Re: [CW: suicide, sexual assault] 13 Reasons Why
Options
Mark as New

Bookmark

Subscribe

Email to a Friend
Monday
@DruidChild
yeah I think one of the biggest criticisms I have of the show is that it didn't emphasise that help actually IS available. Although I think it did an ok job of showing how the counsellor definitely did the wrong thing
Message 9 of 9
(41 Views)