Turn on suggestions
Auto-suggest helps you quickly narrow down your search results by suggesting possible matches as you type.
Showing results for 
Community Manager
Mark as New

Bookmark

Subscribe

Mute

Email
The ReachOut Community has had a major redesign!! Read all about it here
ReachOut's Online Community (previously called ReachOut Forums) has had a major redesign!
We've made it easier to read, navigate and interact with others, and you can also tailor your feed to make it more relevant to you. We've also kept the best parts: whether you're ready to share, or just want to read about the experiences of others, the Online Community is free, anonymous and available 24/7.
Log in or Sign up
Already have an account? You will still be able to log in with your existing details.
If you don't have an account and prefer to just read, that's okay too. If you're signing up for a new account, you can now generate a random display name to help keep your anonymity.
Tailoring your experience
The Online Community homepage now features a feed. You can tailor your feed by using topic filters, so that you can control what you want to read and what you don't. You can sort by "new", or most popular, so you don't miss out on things that are important to you.
We've also introduced Spaces so that you can find and follow the topics you're most interested in. You can find, read, and respond to existing threads in these spaces or create your own.
Your updated user profile will now allow you to access your saved, draft and published posts, and make it easy to find the spaces you're following. If you want to get creative and tell other community members a little about yourself in a safe way, you can use things I'm into to select hobbies and interests that are relevant to you.
Checking in with yourself
At the top of your feed, the Daily check-in asks how you're feeling today: take a moment to check in with yourself before you dive into the Online Community. Once you check in, you will receive some options for how you might want to use your time in the Online Community.
How you feel might change each time you visit the Online Community, and that's okay. (Pro-tip: This can be a good place to start if you're new to the Online Community.)
Keeping the community safe
Our guidelines are easy to find and use to keep yourself and the community safe and inclusive. If you have a question about how to use the Online Community, it's likely someone's asked it before, so you can use the FAQs as your guide to understanding the community better. And everything we do is based on our community values.
Ask and you shall receive!
You asked for it, and we listened: you can now view your direct replies to someone within the same thread, so that conversations are easier to follow, and you can share GIFs using the GIF library in the post editor.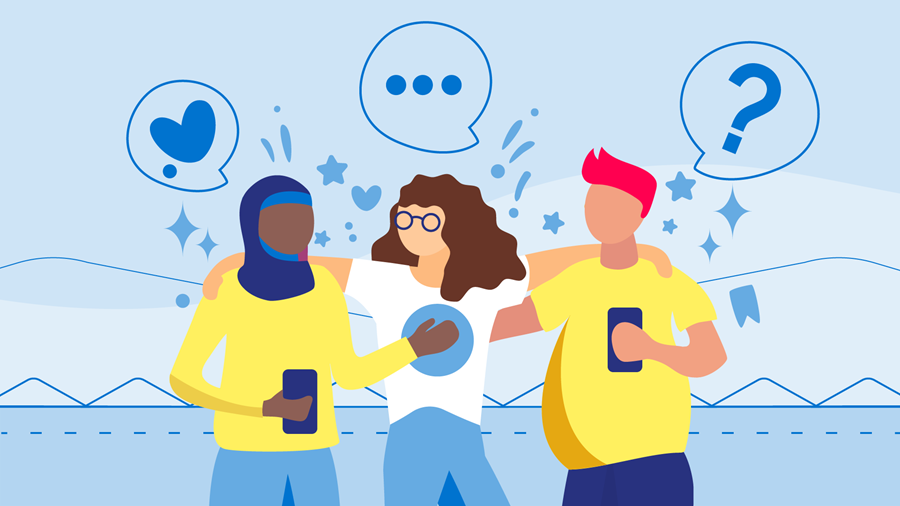 We want your thoughts
If you like something, have an idea, or find that something's not working, let us know. Join our beta program and give us feedback.
We're so excited to see what you think about the new community - and we are always around to answer any questions you may have!!
You can join our beta program to give feedback, or as always, feel free to ask us any questions!
We can't wait to explore this new space with you all!!
Edited to add: Notifications
We know that some people are missing the notification feed and red number indicator. We hear you, and our digital team are working on this one. In the meantime, here's a work around:
This link will show you your personal notification page, as long as you are logged into the forums. So what I have done is saved it in my bookmarks - and I can use that to check my notifications to make sure I haven't missed anything.
You can also go into your settings, and modify what emails you receive. This was done in response to feedback that people really wanted to be able to personalise the level of email notification they get from the online community - some people love emails, some people find it overwhelming at times. So you now have more control over what emails you receive. I have a little video that explains how to do this, which I'll pop in the comments of this thread. And as always, feel free to email the beta address with any feedback, concerns or questions.
__________
Check out our community activities calendar
here